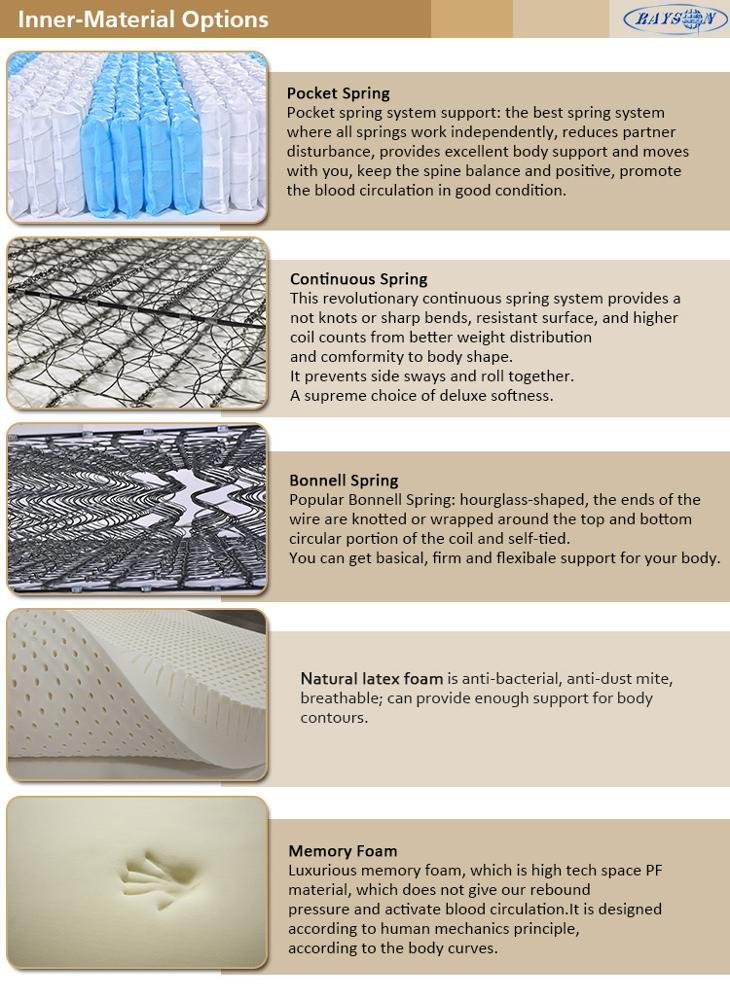 Bonnell Spring System
We have our own spring factory in China named Jingxin Steel Wire & Spring Co.,Ltd. We use the steel wire make by ourself to produce the bonnell spring system. So we can control the cost and quality very well.
Mattress Character
1. Innerspring base use high manganese steel wire with rust proofing treatment.
2. Compressible style super quality foam use to ensure the mattress is good quality after compression and long distance transportation.
3. Beautiful and modern quilting pattern to make the mattress popular and hot-selling.
4. Human body curve and waist protected design to bring healthy sleep to people using this mattress.
5. Good air permeability to keep the mattress being dry and breathable.
6. Anti-dust and mite fabric material to give you a healthy sleep.
7. We promise to use green and environmental material for the production to take care our earth.
Mattress Warranty
In case of there is no special term in the contract, we promise the innerspring for 10 years normal use guarantee, the surface appearance 1 years normal use guarantee.
Use advice:
1. Don't use sharp knife and other goods to touch the mattress surface directly.
2. Don't jump on the mattress always to take care the mattress inner structure.
3. We advise you to turn over the mattress every season to increase the using time of the mattress.
4. The mattress is your best sleeping friend in your life, please take care this friend!